Mother: Local church ignoring simple fix to help disabled daughter | News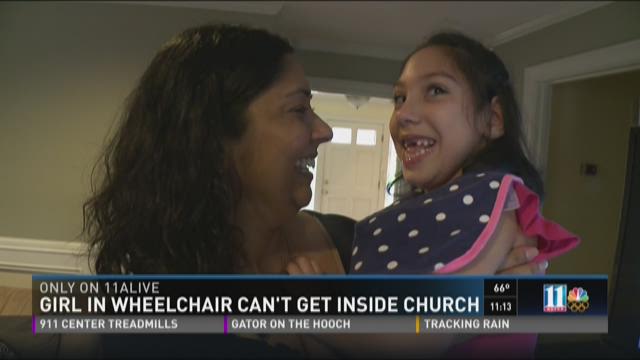 DECATUR, Ga. -- A local family cannot understand why a church will not help their disabled daughter get inside.
The 7-year-old uses a wheelchair and her mother told 11Alive's Kaitlyn Ross she thinks the church could fix it at no cost, but they refuse to help.
It isn't getting inside the church that's a problem - it's getting down to the basketball courts.
Her brother plays every week and while Zoe loves to watch the games, her mother said she is being purposefully left out.
Zoe lights up when she sees her older brother.
"Her brother just walked down the stairs, and this is her reaction," her mother said. "And this is how she is when she sees him playing. She gets excited when she sees him!"
But she hasn't been able to see him play.
His games are at the Clairmont Presbyterian gymnasium and Zoe's mom, Anu, said the main entrance is inaccessible.
"It seems like all we have been getting are a number of excuses," she said. "And dancing around the issue rather than actually trying to come up with a solution."
While Zoe can't get down the stairs in her wheelchair, Anu said there's a side door to the gym that the church could easily leave open. But they've refused.
"I'm not asking for any money to be spent - any construction - but I'm asking that they just unlock a door for us to get in," the girl's mother said.
In a statement, the church said they have tried to accommodate Zoe and they are working on improving accessibility to their gym for future events.
"I can handle it, but it's disrespectful to Zoe," Anu said. "She's a person, not one person from the organization has even acknowledged Zoe through all of this. So it's really - it's been very frustrating."
Documenting her frustration on Zoe's Facebook page, Anu said that of all places, a church should be willing to help her daughter.
"Especially at a place that's supposed to be welcoming, loving and accepting - it's felt quite the opposite for us," she said.
And she said Zoe is the one who misses out.
"She just wants to go watch her brother play a basketball game," Anu said. "And it's almost as if she's being denied that right to do so."  
The season just ended so they're not going to find a solution now. But Anu said she will keep fighting for accessibility so other people will be able to get in and enjoy.