Officials: Tree involved in fatal postal worker accident regularly checked | News
Title (Max 100 Characters)
Officials: Tree involved in fatal postal worker accident regularly checked
DEKALB COUNTY, Ga. -- Officials in DeKalb County say a tree that fell onto a mail truck and killed a postal worker had been checked within the last six months.
Officials said 36-year-old Decarlo Allen died Saturday when the tree hit his mail truck in Lithonia on Shadow Rock Drive. The Mystery Valley Golf Course had closed for the day. Allen was delivering the mail when he passed a grove of tall pine trees. One of the trees uprooted and fell toward the road on top of the mail truck, killing Allen instantly.
DeKalb County owns the Mystery Valley Golf Club.
"It was an unfortunate, tragic accident that happened due to a variety of events happening at the same time, not the least being ice and wind," said DeKalb County spokesperson Burke Brennan. 
Brennan said trees at the course are regularly inspected.
"The last time this tree was checked, it looked fine from the outside, Brennan said. "Unfortunately, I believe there was some damage on the inside of the tree, but we had no way of knowing that."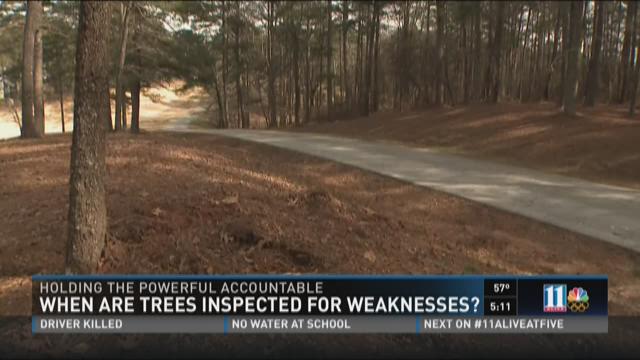 Brennan said the county checks trees at its properties, such as golf courses bi-annually, but they are inspected more often in areas where lots of people congregate.
"If it were a playground, a public area, those trees are checked monthly," he said.
On Monday, an Occupational Safety and Health Administration inspector visited the scene where the accident happened. The county plans to look at the area again as well.
"We're definitely going to go back out there and double-check those trees at that location," Brennan said.
Brennan said tragedies like the one on Saturday is why they advise residents to watch the news and stay inside when the weather is bad.