Fire leaves 5 homeless in Decatur | News
DECATUR, Ga. -- An early morning fire has left a family of five without a home in Decatur, Ga.
The fire happened  around 3:30 a.m. at  2912 Belleau Lane. According to DeKalb County Fire Capt. Eric Jackson, the blaze was possibly electrical in nature, and may have begun in a breaker box, according to the homeowner's report. When firefighters arrived, the fire had engulfed the garage and attic.
The occupants of the house -- Rosa Smith, her husband and three kids -- were able to get out of the house safely. 
 "My son woke me up.. knocked on my bedroom door and woke me up," Smith said.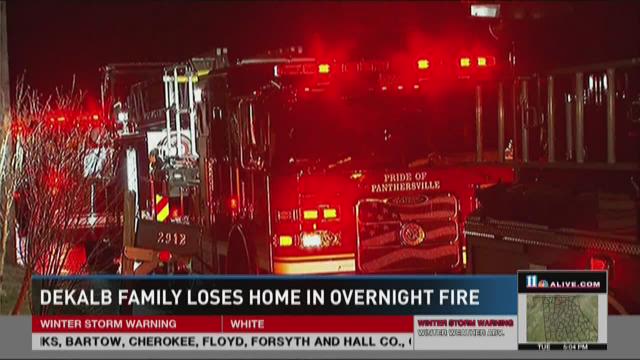 The house was severely damaged by the fire, and it could be a total loss, Jackson said.
Smith said she hired roofers who had generators going all day Monday because of the cold. The water sprayed by firefighters, within hours, turned to ice.
The American Red Cross is assisting the family with their immediate needs. Smith said the family is still coping with the morning's chaos. They'll be staying at a hotel until they determine the next step.
"Mostly concentrate on medication, get that out, and then move onto the next step -- whatever that may be," she said.
Jackson said the cold temperatures made fighting the fire more difficult. Frozen water is often difficult to spot and can pose a slipping hazard for firefighters. In some situations, crews can use salt/sand trucks to help alleviate the problem. 
Atlanta Fire spokesman Cortez Stafford said his department has already faced a harrowing 2016.
"We've had about three to four fires this year so far that we can definitely say were a result of someone trying to keep warm," Stafford said.
One New Year's Day fire was blamed on a woman's death. 

Tonight on 11Alive at Five and 6, 11Alive's Matt Pearl will talk to firefighters about additional problems the cold can create for firefighters.

PHOTOS: Fire destroys Decatur home