DA seeking murder charge for officer who killed naked veteran | News
DECATUR, Ga - The Dekalb County District Attorney says he's going to ask a grand jury to indict an officer who shot and killed an unarmed naked man, with murder.
On March 9, 2015, DeKalb Coutny Police Officer Robert Olsen shot 27-year-old Anthony Hill when Olsen said the man lunged at him.  Olsen had been called to Hill's apartment complex after receiving a report that the man was behaving erratically.  Other witnesses have said Hill was only walking toward the officer and clearly did not have any weapons.
On Thursday, DeKalb County District Attorney Robert James said he would seek charges for two counts of felony murder, aggravated assault, violating the oath of office and making a false statement when he presented the case Jan. 21.
Photos | Anthony Hill
A civil grand jury in October was unable to reach a consensus on whether the officer did anything wrong, but did recommend the DA's office investigate further.  As a police officer, Olsen is given the opportunity to tell his side of the story to the jurors.  James said it was that testimony that helped his office reach the conclusion to seek an indictment.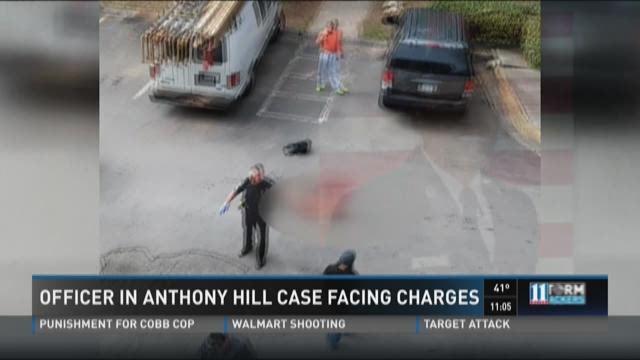 James says during the civil proceeding an investigator from his office presents the case in a neutral fashion, but the case he takes to the criminal grand jury will be different.
"When we make the decision to present a case for indictment, I am no longer neutral," James explained. "I become an advocate.  My office becomes an advocate at that point."
Hill's girlfriend, Bridget Anderson, says she was elated to hear the news, along with Hill's family.
"My stomach dropped, I had butterflies," said Anderson.
Anderson and other Hill supporters have held rallies, protests and even interrupted a Presidential campaign stop to put pressure on the county to press charges.
According to the Hill family attorney, Christopher Chestnut, Hill was medically discharged from the Air Force in April 2013 after being diagnosed as bipolar. Anderson says he had stopped taking his medication.
Olsen will again have the opportunity to testify before the grand jury.  11Alive was unable to reach him for comment or ask whether he planned to attend. He has been on paid administrative leave since the shooting.
A review of 51 officer involved shootings in the past ten years showed only eight were ever presented to a grand jury and only one of those went to trial.

The family filed a wrongful death lawsuit in November.