DeKalb water main break has residents losing patience | News
UPDATE: DeKalb County officials reported on Thursday that the 14-inch water main break at Superior Avenue and Willow Lane had been repaired. Service is fully restored but officials advise residents to run their water temporarily to get rid of air in the line and water discoloration.
DECATUR, Ga. -- The rains have delayed repairs to Monday's aggravating break in an old water main in DeKalb County, near the intersection of North Decatur Rd. and Superior Ave.
And Wednesday, the county said water service in that area, which was restored temporarily, will have to be shut off one last time -- this time on Thursday between 9 a.m. and 4 p.m.
"It's been hectic," resident Linda Rice said.DeKalb County is telling residents and business owners that this holiday nightmare will end and water service will be restored -- after Thursday's cut-off, by around 4 p.m.
No one hopes for the fix more than Rice -- and her family which includes her three grandsons.
"When you have three boys and two of them are under a year, it's challenging," Rice said with a chuckle. "Because of all the laundry, baths, and everything that you need to do for children."
"There was some movement in the ground, which caused the water main to break," Shiera Campbell with DeKalb County Government said.
Campbell said that because of the break, water service was shut off to around 300 customers, both residential and commercial.
"It is a 14-inch pipe. It's outdated. So crews were trying to replace that pipe" she said. "They're re-doing the whole water and sewer line in that area, and that's when they encountered the issue with the water main break."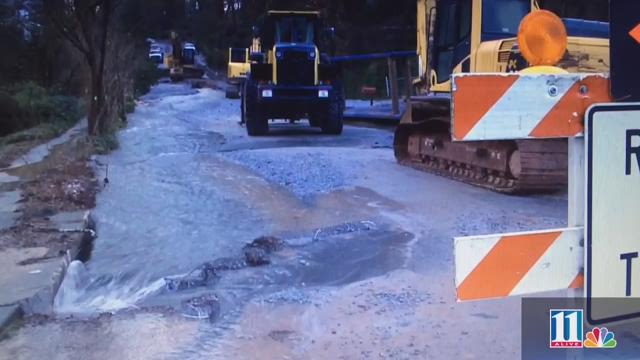 Campbell said crews had to special-order a part to make the repairs on the antiquated line, and that caused part of the delay.  But they were also delayed because they could not do any repairs in this week's downpours. So they put a bandage on the old water main, to restore service temporarily.
"Their main focus was to try to just get water to the residents and to the businesses in the area," Campbell said.  "Employees of the Department of Watershed have been going door to door" personally updating residents and business people throughout the week. 
"I'm in the civil engineering business, profession," he said. "And I've been just totally shocked. I'm not impressed with what's taken place right here.... I don't see a bit of oversight and competency in what's going on here, in terms of getting stuff done expeditiously."
Rice is trying to keep her own perspective intact.
"Well, it doesn't do any good to get upset about it," she said. "So at least they're here fixing the problems."
There may be more disruptions in the area in about two weeks when crews are finally able to install the new water main.  But the county said that should be the end of the disruptions in this area.

StormTracker photos December 30