New details emerge in successful search for 3 missing children | News
CLARKSTON, Ga. -- After hours of frantic searching, three Clarkston children who went missing Thursday night have been found.
11Alive had the only crew capture the moment that the children emerged from a neighbor's home.
Cameras wee rolling and spotted the kids even before police knew where they were.
Those children are home safe now, but that comes after a night full of searching and praying.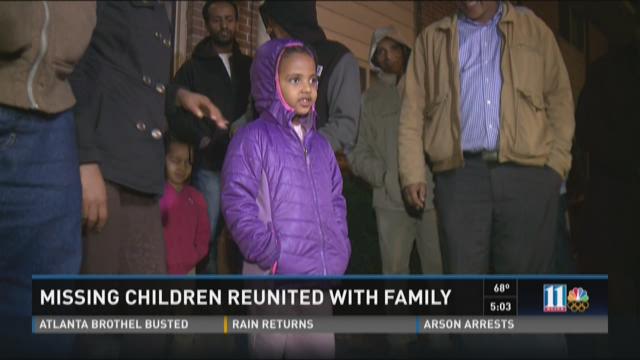 Joyful screams filled the air and tears the faces of loved ones as the children were finally found – a sign of relief as a Clarkston family was reunited with their children.
"We are praying so that God can help us with this through this troubled time," a family member said.
For more than 8 hours, frantic family, friends and police searched for the children – all under the age of 6.
Little Betsalot, her brother Bekalu and cousin Yewubdar were last seen at a playground.
"The mom walked away momentarily only to return and the children were gone," Assistant Chief Thadius Brown said.
The family searched the complex knocking on every door.
They then turned to prayer - kneeling and crying out for the children to be found.
Police used K9 units and even a helicopter with heat imaging.
But then something amazing happened. The kids emerged from an apartment in another building.
And in that moment, their prayers were answered.
Shakily, a family friend, Berhanu Nune, describes the emotions that swirled in those moments.
"We were crying in front of God," Nune said. "We thank God for this miracle. It is just a miracle for us. We were expecting the worst but God made it good."
It turns out the mother of a playmate saw the children alone on the playground and took them inside.
Six-year-old Betsalot described her night.
"First, I go to playground and play over here and she said come on in, look at the picture," she said. And we go inside and we eat and we play the game and we play and then we sleep."
But some are wondering why the neighbor didn't come forward sooner.
Her husband explained.
"She cannot speak English," he said. "She say, 'My mommy is coming in the morning at 5."
The neighbor said she had planned to bring the kids home at daytime when she thought their mother would be home.
The family's spokesperson said that while they disagree with the decision, they appreciate her good intentions.
"I think there is a cultural barrier I can understand," one family member said. "She's from another country."
Investigators said that at this time, they don't expect charges to be filed against the neighbor who kept the kids or the mother who left them.