DeKalb Co. Commissioner calls for Lee May's resignation | News
DEKALB COUNTY, Ga. -- A DeKalb County commissioner is calling for interim CEO Lee May to resign.
Nancy Jester says recent events have damaged the local government, and the only way to resolve the crisis is for May to step down.
The report, co-written by former state Attorney General Mike Bowers, claimed the government of DeKalb County is rife with "appalling corruption and "corrosive and widespread misconduct."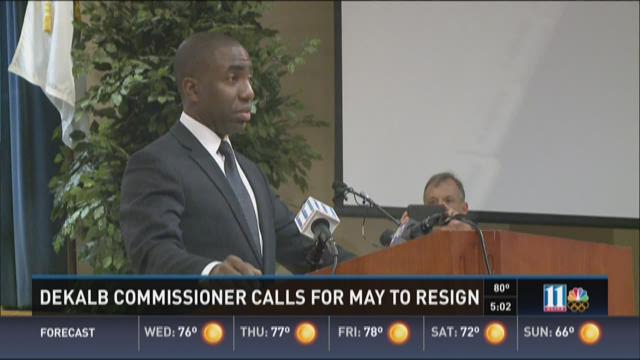 The report called for the immediate resignation of May, who was originally appointed interim CEO by Gov. Nathan Deal in July 2013.
Jester's entire statement:
Since the release of the Report of the Special Investigators on DeKalb County Corruption, I have been listening to people across DeKalb County to sort out the deeper implications of the allegations contained in the report and to determine what I myself am called upon to do.
 
I feel compelled by a duty to DeKalb County, to my constituents, and to my beliefs to state plainly the conclusions I have reached.
 
When CEO Burrell Ellis was removed from office, all across DeKalb County people of goodwill united together in support of Lee May and his mandate to clean up corruption, improve the operations of county government, and restore confidence and trust in DeKalb County government.
 
Given the Report of the Special Investigators and an overwhelming number of issues confirming incompetent management from senior members of his Administration, it is my belief that iCEO Lee May no longer has the ability or moral authority to fulfill that mandate.
 
DeKalb County is at the point where the people of DeKalb County must come to terms with the Report of the Special Prosecutors if corruption and incompetence is not to end up harming all of us and the county we love to a degree we cannot recover.
 
Corruption and ineffective executive management in DeKalb County can no longer be thought of as merely a rare instance such as occurs from time to time in all counties across America.
 
The reality is DeKalb County faces a crisis with the possibility of simultaneously wiping out our financial reserves and killing future jobs and economic development – for decades to come.
 
The outward signs of the depth of the crisis before DeKalb County are obvious:
•       A 40 page report full of allegations alleging both criminal and un-ethical activity
 
•       Beyond the report ongoing allegations of mismanagement in numerous departments across the board in the Lee May Administration
 
•       Numerous, long time and respected DeKalb businesses preparing to leave the county taking their jobs and tax dollars with them
 
I won't repeat the list of all of us know much too well.
 
However, and most troubling, at the very heart of the crisis are things which cannot so easily be listed, for they consist of felt truths – things that degrade the reputation of DeKalb County.
•       The spreading cynicism about those in leadership positions, both elected and appointed in DeKalb County.
 
•       The pervasive and undeniable sense of frustration and anger that has become the dominant feeling of many taxpayers from across DeKalb County.
 
•       A perception of corruption that has effectively destroyed the ability of iCEO Lee May to speak from a position of moral leadership.
 
 
•       The widespread belief that the Report of the Special Prosecutors and all that it has brought in its wake has done irrevocable damage to our local system of government.
There is one way by which the crisis can be resolved.
 
That is for Lee May's voluntary resignation as DeKalb County iCEO.
 
Inevitably the iCEO is responsible and accountable. The character of the Administration is defined by the character of its leader.
 
It is Lee May who appoints his executive staff. If he does not explicitly command what his aides and agents may and may not do, they will do what they sense and believe he wants them to do – or will allow them to get away with.
 
By proposing Lee May's resignation I do not in the least imply belief that he is legally guilty of any of the allegations brought against him.
 
My proposal reflects no personal judgment on the matter of guilt or innocence.
 
I hope and pray Lee May will realize that the greatest action he can now take for DeKalb County is to voluntarily put the best interest of the people ahead of his self.
 
The people of DeKalb County will, I am confident, judge this action in terms of the courage, character, and self-sacrifice it would so dramatically display.