GBI to review DeKalb report but AG Olens won't | News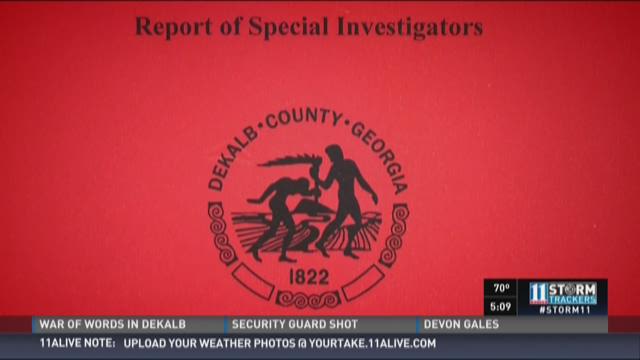 DECATUR, Ga. -- Georgia Governor Nathan Deal directed the GBI to review the report on DeKalb government corruption "as it (would) with other similar reports" this week.
In the meantime, Attorney General Sam Olens issued a statement saying the allegations in the DeKalb report are outside of his jurisdiction.
Former Attorney General Mike Bowers said DeKalb's interim CEO lied in his press conference on Wednesday – and produced evidence to back it up.
11Alive's Doug Richards was in Decatur with Thursday's back-and-forth on a serious issue.
On Wednesday, Interim CEO Lee May said he never got a loan from his top aide Morris Williams. And he said he never even discussed what Bowers said would have been an illegal loan from his underling. This was May on Wednesday:
"Loans of any nature. We never even discussed a loan in our conversations with Mr. Bowers or with Mr. Hyde. So again, I have no idea what he's talking about where this is concerned."
Bowers said this was untrue.
"I don't like to call anybody a liar," he said. "But on May 7 this year, 2015, he sat for an interview with Richard hyde, and he acknowledged that he acknowledged money from Morris Williams. And that interview as recorded."
In the transcript, May acknowledges that he moved Williams to a six figure job – though it's not tied explicitly to the loan. Lee May released a statement this afternoon clarifying his denial yesterday, saying he got no loan tied to a particular check investigators found.
Bowers said the loan is an illegal act that could cost May his job.
The law provides that him taking that loan from Morris Williams is a removal offense.
The incendiary Dekalb County corruption report issued Wednesday will get reviewed by state investigators but not by the attorney general.