Officers involved in shooting at DeKalb home identified | News
DEKALB COUNTY, Ga. – Authorities have identified three DeKalb County Police officers involved in a shooting Monday night.
Officer Travis Jones was injured by a fellow officer's gunfire, according to a preliminary finding by the Georgia Bureau Investigation
The other officers involved in the confusing scene Monday night were identified as Quhanna Lloyd and Timothy Harden, the GBI said.
Officers Lloyd had the most experience with eight years on the force, followed by Officer Harden, who had five.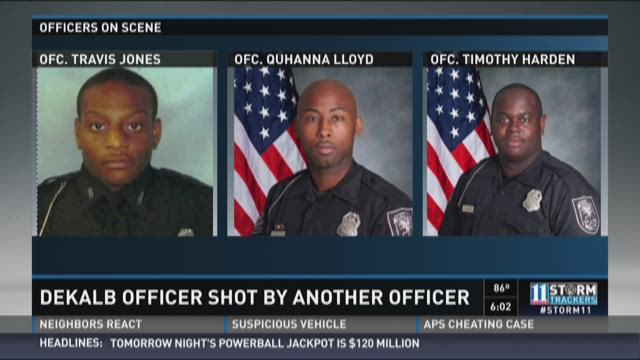 Jones began with the department 10 months ago. The rookie officer was listed in serious, but stable condition after being shot in the hip, the GBI said.
A homeowner, 36-year-old Christopher McKinley, was also shot in the leg. He was treated and released from Atlanta Medical Center. His dog was shot and killed.
It's not clear which officer fired the shots.
11Alive News tried to contact the other two officers Tuesday evening to find out what went on during the incident. Both officers answered their telephones, but neither would discuss the case with our Jeremy Campbell.
Harden lives in Stockbridge, and according to the GBI, has been on the force for about five years. Lloyd is the senior officer of the three with eight years on the police force. A background check revealed that he had been issued a DUI charge by the Atlantic Beach Police Department in Florida in 2012, which was reduced to a reckless driving count. Lloyd served six months probation for that charge.
When contacted at his Stone Mountain home Tuesday evening to discuss Monday night's incident, Lloyd said he could not speak on the subject, and that we would have to make contact with his lawyer.
The DeKalb County Police Department has remained mostly silently as the GBI began its investigation into the incident, which happened on Boulderwoods Drive.
Police said it began with a 911 call, and a vague description given to dispatch.
"This is where they thought the potential burglary was taking place - and the color of the house and the texture fitted that description because no numerical address was given," said DeKalb County Director of Public Safety Dr. Cedric Alexander.
Neighbors said McKinley was asking why he was shot after the incident.