GBI, DA will probe why DeKalb cops opened fire in home | News
DEKALB COUNTY, GA -- Investigators from the DeKalb County District Attorney's office and the Georgia Bureau of Investigation will probe why two DeKalb police officers entered a home and opened fire on the homeowner Monday night.
Police were responding to a 911 call about a suspicious person in the neighborhood. A GBI statement said the DeKalb officers entered the home at 1500 Boulderwoods Drive and shot the homeowner in the leg. They also shot and killed his dog
Neighbors identify the homeowners as Chris and Leah McKinley, the parents of a 1-year-old boy. Mr. McKinley was shot in the leg, treated at a local hospital and released. He was not charged.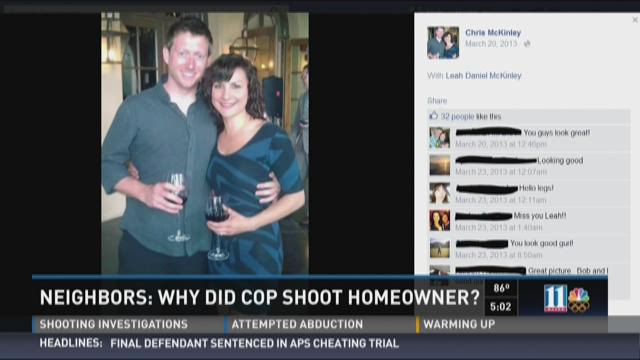 "Chris said out here, 'I don't even have a gun. Why did they shoot me? Why did they shoot my dog? Who are they?'" recounted Tama Colson, a next door neighbor who heard the shots and saw the wounded man on his front lawn. GBI investigators say one of the two DeKalb officers also mistakenly shot another DeKalb officer during the incident. The officers involved were identified Tuesday evening.
"You're supposed to go in and at least identify yourself as an officer and if the homeowner doesn't have a gun, a weapon in his hand, why would you go ahead and shoot the homeowner?" asked Nimrod Dade, a homeowner who lives three doors from the incident.
Dade says he is sympathetic to the dangers of police work and has a cousin who works at DeKalb PD.
Monday night, police said the call to 911 reported a burglary in progress in the neighborhood. By Tuesday, the story changed to a suspicious person call at an unspecified address in the neighborhood, and police had admitted they may have responded to the wrong address.
Police said the officers entered the rear of the McKinleys' home through an unlocked screen door.